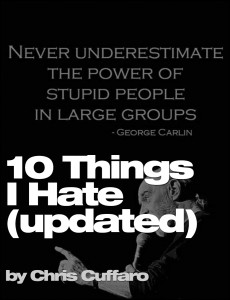 It's been 6 years since I wrote this post.  Way back in 2014 I made this list.  Things have changed and I have changed.  Thought it was a good time to do it again.  Here's 10 Things I Hate…
Stupid People – Still and always!

 

Too many stupid people!
Excuses – Fucking hate them!

 

STOP!
Pandemics – This shit is fucking lame!
Rude People – Manners cost nothing!

 

Use them!
Waiting in Line – I'm always in a hurry.

 

Sorry.
Annoying Neighbors – Stupid noisy neighbors suck!
Bad Business – Be smart!

 

Get help!

 

Find a mentor.
Back Pain – Still fucking annoying and lame.

 

Getting old sucks!

 

Ugh.
Slow Drivers – Can you at least drive the fucking speed limit please.

 

Get the fuck out of my way!
Everyone under 30 – Lazy, annoying, dumb and did I say annoying?!?!

 

Self centered brats!