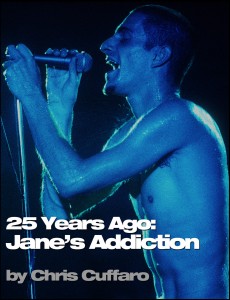 09.26.91 – Jane's Addiction | "Last Show" – Hawaii
I mentioned this before in My 10 Favorite Jane's Addiction Moments post.  This show was amazing in too many ways to count.  I flew my good friend Beth to join me for this because I knew it would be epic.  The venue was hot and small.  I had to shoot the whole show from the stage cuz there was no pit.  It was so hot that the band was dripping in sweat.
After a few songs, Perry took his cloths off and played the rest of the show naked.  NO lie, seriously naked.  I dare anyone to do that!  Nobody stopped him and he did the rest of the show naked until the encore.  The whole show felt special and I had never seen anything like it.  The heat had a lot to do with it.  You can see a video of the show here… https://www.youtube.com/watch?v=G5-m8qsvmBs&ab_channel=RoyOh  I don't know who shot it, but its pretty cool.  I can see myself on the side of the stage shooting!  Crazy!
After the show Beth and I sat on the beach and talked till sunrise.  To this day I feel this was the best show I 've ever seen!!!  Seriously fucking brilliant in every way!!!  Music at is best!