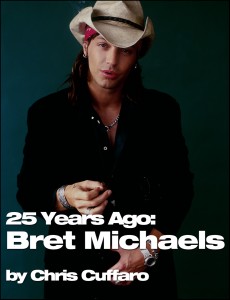 02.26.97 – Bret Michaels | Movieline Magazine
What a fucking fun shoot!!!  Bret Michaels for Movieline magazine at Smash Box Studios in Culver City!  This was an editorial shoot for a movie that he was acting in.  I had never shot his band Poison, but this was close enough.  He was super cool and so easy to shoot.
I didn't have a lot of time.  Basically I had a half day to shoot some quick and easy set-ups.  I loved shooting my Polaroid 665 for one of the set-ups.  But then again I always loved shooting my hair 665.  I think Bret made a great subject and I think he had a good time.  I know Movieline magazine was happy cuz I shot for them again many times.