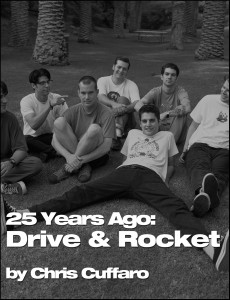 06.29.94 – Drive Like Jehu & Rocket From the Crypt | Rolling Stone
Two bands for the price of one! Got to drive down to San Diego for the day to shoot Drive Like Jehu and Rocket from the Crypt for Rolling Stone Magazine. I wasn't a fan of either band cuz they used to be in one band called Pitchfork. They put out one CD and it blew me away. LOVE that CD! See if you can find it and you'll thank me,
The shoot was at some park in San Diego. I don't remember, but I do remember it was a nice day and the guys were very nice. We did two different band shots and then a bunch of individual portraits. Overall it was a great shoot cuz I was all fan boy for the guys who were in Pitchfork. Rolling Stone Magazine was happy and that is a good thing.