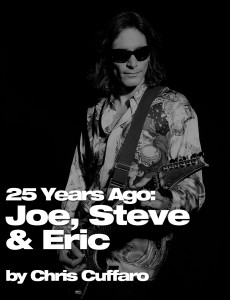 07.22.96 – Joe, Steve & Eric | Guitar World Magazine
How would you like to be in the same room as 3 guitar legends?  Well I was and it was crazy!!!  I shot Joe Satriani, Eric Johnson and Steve Vai for Guitar Player Magazine at Smash Box Studios in Culver City, CA.  I needed a nice space where I can handle these legends!  I will admit I was down with Joe and Eric, but Steve was a god to me since I saw him play with Frank Zappa back in the day!  So, meeting Steve and shooting him was fucking epic!!!!
I shot each guitar god solo and then together.  I shot simple and clean.  I shot Polaroid 665 for sure.  I just remember how everyone was so laid back.  No egos, just friends.  I also remember wishing I had brought an amp with me so they could plug-in and shred!  We could have had some kind of guitar battle like in the movie Crossroads!!!  
I look back at these shoots and smile.  Not only cuz they were with brilliant musicians, but they never let me know and always made me look good.  Meeting and shoot Steve Vai is a BIG highlight for me just cuz of the Frank Zappa connection.  Anytime I shot anyone who played with Frank I was excited and grateful.  I loved the stories!!!