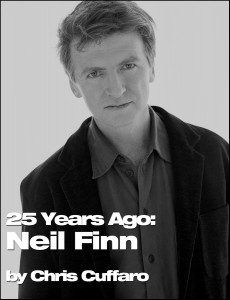 02.21.98 | Neil Finn | Work Group Records
My second shoot with legendary Neil Finn was for Work Group Records at Smash Box Studios in Santa Monica.  The shoot was for publicity and my good friend publicist Lisa Millman.  I had shot Crowded House years ago, so I was familiar with Neil.  I remembered he was super nice and easy going the first time, so I knew this would be easy.
We did 3 simple setups in the studio.  I used the BIG window light for most of the shoot.  I loved natural light and use it when ever possible.  If I have it, I use it.  We also used some color seamless and black duvateen for a couple shots.  It was a very easy day for sure.  The kind of shoots I like.  Shooting any musician and having conversations about music was one of the big reasons I do what I do.  We talked all day about bands, music and our favorites.
LAST… I just looked at this shoot recently to scan some of my favorites.  I forgot how great this shoot was.  We got some great portraits.  I'm super proud of this shoot.