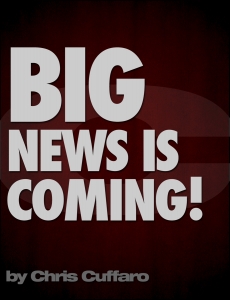 Summer is here and it's time for the beach.  It's also time for some BIG news.  I've been busting my ass for awhile now and I want to share something big with you, but today is not that day.  Sorry, but I promise to share it with you next week for sure.
In the meantime… I've got some questions!  Do you like music?  Do you like photography?  Who's your favorite band or artist?  What was your first concert?  What was your best concert?  What was the first album/CD/cassette you bought?  These are some of my favorite questions that I asked everyone I shot in the last 35 years!  I've heard it all and more.  Some answers were amazing.  Some where funny.  Some were fucking brilliant!
Let me know in the comments or on Twitter, @CuffaroPhoto, and while you're at it follow @CuffaroPhoto on Instagram, too! Then, get ready cuz next week I'm going to make a big announcement!!!  Be ready, make sure you're sitting down, lock up the kids and make sure you feed the pets!  Shit is about to get REAL!  Woo hoo!