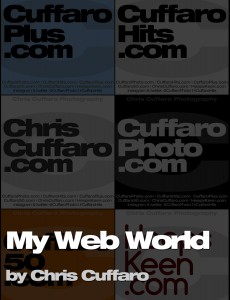 I hear YOU cuz I hear ALL my friends ALL the time.  "Chris WTF are you doing with ALL these websites?".  What are they all about?  Why so many?  That's what I hear at least once a week.  NO lie.  Here's a simple breakdown…
CuffaroPhoto.com – My main site that covers everything me & my photography career.  Portfolios, blogs and more.
CuffaroHits.com – Everything for my Greatest Hits project!  This is where you can see everything… videos, trailers, stories, galleries and information related to my exhibitions & project.
CuffaroPlus.com – ALL my new work with new talent.  Here you can see what I'm up to NOW.  I love working with new talent!!!
Cuffaro50.com –  This is NEW and where I'm celebrating my 50 Years of Photography.  I'm just getting started.  Stay tuned for some serious fun.  Digging deep in my vault.
ChrisCuffaro.com – This is my latest & greatest.  This is ALL about my directing work.  My future is in directing and I needed a place to share this work.
HeapsKeen.com – This is just for fun.  I'm using this site to share my fav shots from my trips to Australia my home away from home.  I love it there and I wanted to share this love with you.