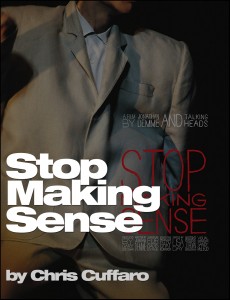 Do you like concert movies?  Do you like the Talking Heads?  Have you seen the movie Stop Making Sense?  It's one of my favorite movies of ALL time.  Released in 1984, directed by Johnathan Demme, produced by Gary Goetzman and shot at The Pantages Theatre in Hollywood.   
I've watched this movie a thousand times and listened to the sound track even more.  I never get tired of it and I always want more.  I was in LA in 1984 and I wish I could have gone to the show to this day!  SO mad that I did NOT see them live.  The music an that band is perfect!  David Byrne, Tina Weymouth, Chris Frantz, Jerry Harrison, Steve Scales, Lynn Mabry, Ednah Holt, Alex Weir and legendary Bernie Worrell at their best.  I was lucky to see Alex Weir play with the Brothers Johnson, Bernie Worrell with Parliament Funkadelic and Lynn Mabry with George Michael.  That's about as close as I got to the Talking Heads.
Do yourself a BIG favor and sit your ass down!!!  Watch the movie first, then listen the soundtrack.  Watch how tight the band is.  Watch Tina be so damn funky!  Watch David dominate the stage!  Watch the band kill it from beginning to end.  Then watch it again and again.  For me it's the best live music movie ever made, like ever.  The version of Life During Wartime gives me goosebumps to this day.  Do it NOW!